Welcomes The Newest Challenger 605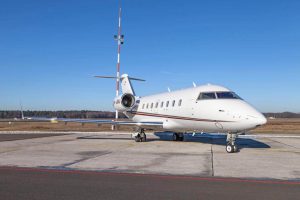 The most well-equipped aircraft will include refurbishment and will include an entirely new interior
space including VIP leather seats for seven to eight passengers or up to 3 patients along with the option of escorts on board.
The new ambulance aircraft configuration is conveniently built of a stretcher, new medical equipment and fast operating cabinets for the crew handling emergency flights.
Due to the interior height the aircraft allows all patients and their families complete comfort during long flight hours and transferring the patient to the destination. 24 Aviation has business connections and specialization in Bombardier aircraft, which brings significant operational benefits and costs for our customers.
The CHALLENGER 604 Private Plane: Setting New Standards in Luxury Travel
Introduction
In the realm of private aviation, the CHALLENGER 604 stands as a true icon of sophistication and comfort. Manufactured by Bombardier Aerospace, this medium-to-long range business jet has captured the hearts of discerning travelers and business executives alike. Offering a harmonious blend of cutting-edge technology, high-performance capabilities, and opulent interiors, the CHALLENGER 604 represents the epitome of luxury travel in the skies.
Sleek Design and Performance
The CHALLENGER 604's sleek and aerodynamic design not only exudes elegance but also enhances its performance capabilities. Powered by two General Electric CF34-3B engines, this aircraft boasts impressive speed and range. With a maximum cruising speed of approximately 528 knots (616 mph) and a range of over 4,000 nautical miles, the CHALLENGER 604 can effortlessly traverse vast distances, connecting cities and continents with ease.
Comfortable and Spacious Interiors
Step inside the CHALLENGER 604, and you will be greeted by a spacious and lavishly appointed cabin that epitomizes luxury in the sky. The aircraft can typically accommodate up to 12 passengers, but configurations can be customized to meet specific requirements. The ample cabin space ensures passengers can move freely and relax throughout their journey.